Are you preparing yourself to have some exterior renovations or finishing on your
old or new high-end home? Wondering why the people of Ontario go for stucco? Let
us find out, shall we?
Stucco has traditionally been the popular exterior wall system in Canada for 17
years. Aside from adding character to the home can give it a very sophisticated look,
especially when it is merged with bricks. Stucco might not be your first pick for the
best finishing on a high-end home since it has been worn with the age-old
the perception that it crumbles and topples over a few years. That is without a doubt
very untrue and quite the opposite if you ask the people of Ontario today. Since it is
so durable and reliable, more house owners and real estate developers opt for stucco
instead of other high-end conventional materials such as planks, wood, or stones.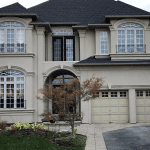 Stucco can transform your exterior into a stunning tower, making it the talk of the
town for some time to come. Stucco can use it to enhance the general aesthetics of your
home while still preserving its exterior. So many customs and extricate designs can be
created with stucco. They can blend with existing unique and sophisticated
Architectural designs such as accent mouldings, arches, stone works, and accent
mouldings. Enhance the appeal and worth of your home with durable and stylish
finishes and a distinctive look.
One of the critical things that are so attractive about stucco is its incredible versatility.
As an excellent material that stucco can finish in an endless stream of colours, textures,
and shapes, many architects can use these qualities to create unique and mouth
dropping buildings. Stucco made of natural lime and ground marbles gives your
buildings a very polished look. It is the only plaster that can adequately create faux
marble finishes to give your building that regal elegance and glow. Its additional long-lasting durability ensures that your high-end home stands tall and proud for many
years to come.
ADDED BONUSES
Many homeowners in Ontario choose stucco finishes for their very distinct look and
numerous benefits. Stucco is currently one of the most common exterior finishes, and
here is why:
1. Durability
Stucco is currently one of the most durable siding choices on the market. If applied
and appropriately maintained., stucco can last over fifty years with a bit of care. This
is because stucco contracts and expands as the temperature changes, significantly
reducing the risk of crumbling and cracking.
2. Aesthetics
The layer application creates a heavily textured surface. This makes it ideal for
modern homes. The homeowners with different aesthetics tastes can also appreciate
the range of textural options such as coarse, raked, smooth, swirled and pebbled.
You can choose whichever application best compliment the style of your home. Since
contractors apply stucco seamlessly, it accents the home's architecture and other
exterior elements, making it the best choice for traditional, modern and edgy homes.
3. Best Value
Stucco provides a beautiful concrete shell around your home the moment it is dry.
This complex, durable exterior has excellent curb appeal and characteristics such as
earthquake resistance, energy-efficient, fire-resistant, low maintenance, rot resistance
and even sound dampening. These also reek up the cost of your home should in case
you want to sell.
4. Versatility
In case you find yourself renovating an existing house, then stucco is an obvious
choice. This is since contractors can apply stucco over concrete masonry or the
frames of their wood. In addition to the visual options, the versatile application
makes stucco the best choice for homes of different styles. Whether you are building
a new home or looking to renovate an existing one, a stucco finish is a wise choice.
Talk to your builders in Ontario and get started.
5. Fast Set-Up
Siding is one of the most significant home renovations you could take on.
Fortunately, if you choose stucco siding, the whole process is cut by half. Most of the
applications take between one and three days, and that also includes drying time.
This goes a long way to minimise the disruption to your home routines during the
renovation process.
6. No Decay
The moment your contractor makes sure all checks on the waterproofing process is
optimum. Stucco becomes impervious to almost all kinds of decay. These comprise
mildew, mould, rot. Unlike other finishing, with the appropriate installation, stucco
also does not flake or crumble over time. This makes it best for moist and humid
climates where other finishes often succumb to rot after only a few years. Try your
best to incorporate stucco today, and you will not regret it.
7. ABC of Maintenance
Stucco requires little or no maintenance, even in extreme climates. In warmer areas,
homeowners may not need to perform any type of maintenance except for the
occasional washing to remove spots or stains. However, in wetter climates, the
homeowner needs to clear as much snow or rain away from the walls as possible
since it dampens them. Stucco allows for repainting giving your home a new look
every holiday.
8. Great Home Efficiency
Stucco finishing can also save you a lot of money and drastically cut energy bills by
half. Stucco has high insulation efficiency; this makes it easier to maintain the
temperature you want in the home than a home without stucco finishing. This is
possible no matter the weather condition. Stucco reduces your heating bills in the
winter by drastically reducing heat transfer through the walls of your home.
9. Best Home Insurance Premiums
If you are ever ready to sell your stucco home, rest assured that you are living in a
gold mine. Stuccos' outstanding characteristics benefit you when you sell because
these homes can better withstand natural disasters like fires and earthquakes. They
last longer and cost way less to maintain other than homes that do not have stucco in
them.
10. Endless Options
Typically, your contractor and manufacturer partnerships determine the range of
your colour pigments. Stucco redefines those odds since the contractor can mix those
pigments directly in the solution, giving you the chance to pick the perfect custom
shade for your home. While stucco does not require repainting over a long period,
you can still do that if you want to. Even though some people will argue that
synthetic finishers are better than traditional ones, the winner emerges with age.
Stucco is that winner.
START TODAY
Stucco enhances your home or businesses exterior design. Housing a wide range of
advantages, it is by far the best pick for your high-end homes' exterior décor. With
great design options to choose from, it is pretty evident that stucco is indeed the
pride of Ontario.