Let's Face it, Birds are cute and we love birds however these Woodpeckers are a pain.
If you are reading this is because you are facing woodpecker holes in your home, and that is what you need to know.
Woodpeckers can cause quite a bit of damage when they decide to peck on stucco. Stucco itself has a very hard layer but woodpeckers…They nail it all the way. Stucco has this hard cement surface however EIFS Exterior insulated finish systems stucco is made with styrofoam as insulation with this hard surface finish of portland modified cement and Acrylic finish. This material is very easy for the woodpecker to penetrate and can cause quite a mess, you probably know about it.
It may not look like it but the beautiful bird with a long beak and strikingly bold colors does more damage than you think it can. They don't stop at one hole and if you don't stop them from pecking, your stucco might look like a giant honeycomb.
Let's leave some of this for later…
Before hopping on ways to get rid of woodpeckers, let's have a brief look at their pecking behavior.
WHY IS A WOODPECKER PECKING HOLES IN MY STUCCO?
No, a woodpecker is not on a mission to annoy you. In fact, it has got some valid reasons to do so like:
1- Food: A woodpecker likes to eat wood-boring insects along with some insects that like to live on trees and grounds. The stucco of your home may be infested with carpenter bees or ants which is the reason woodpeckers pay a visit to your walls. So, next time you see a woodpecker pecking holes in stucco, it might be looking for food!
Getting Cozy: Woodpeckers like other birds have an instinct of nesting. The only difference is that its nest is inside a tree. When looking for a place to nest, woodpeckers are often attracted to homes that are not covered with hardwood instead softer woods like pinewood, cider, and of course stucco. Calling stucco their favorite pecking thing won't be wrong. Once they succeed to drill a hole in the stucco, inside lies a cozy place where they can start a family of their own or get cozy after a long day of flying.
2- Storage: Woodpeckers are way smarter than you think. They often dig holes to store food. Yes! You read that right. Smart move, isn't it? Woodpeckers like nuts like hazelnuts, walnuts, almonds, pine nuts, and pecans. If you find some nuts stuck in the roof shakes, know that a woodpecker has saved it for the future. Making holes in stucco is easier for them and it provides them a nice place to store their favorite nuts.
3- Making some Noise: Woodpeckers like to make some good noise but at particular times of the year. They are not noisy in fact there are two purposes behind the loud drumming or hammering sound by a woodpecker. Firstly, it's like an announcement that this area is theirs and other woodpeckers must not think of invading it. Boss behavior, right? A second possible reason for drumming may be the phenomenon known as "shadow boxing". Woodpeckers, when they see their own reflection in the windows, do the hammering in order to scare the other bird away. The third and the most important reason woodpeckers make loud noise is mating which may come as a surprise to many. Making a loud noise is their way of attracting a partner for mating and you shouldn't be judging them. The hammering sound and pecking that is associated with mating are found during the fall and the spring weather. Whereas, the other noise-making goes on throughout the year.
HOW TO STOP A WOODPECKER FROM PECKING HOLES IN THE STUCCO?
Woodpeckers need to be stopped from pecking holes in the walls as the activity is not restricted to the stucco only. Woodpeckers also peck door frames, eaves and, trim boards. This includes both domestic and commercial properties. You must not opt for some lethal way to stop the creature. Have a look at these tips and methods to prevent woodpeckers from creating holes in the wall:
1- Make use of Visual Deterrents to Scare Woodpeckers:
Regarded as one of the easiest methods to divert the woodpeckers, putting up visual deterrents is also a very inexpensive method. Woodpeckers get scared by reflections very easily hence putting the visual deterrents up on the wall works out in your favor. The most common and most effective used visual tools to share the nasty birds away are:
● Bird Repellent Discs
● Bird Repellent Tape
● Bird Repellent Balloons
● Mirrors
● Reflective Streamers
2- Try Electronic Woodpecker Repellent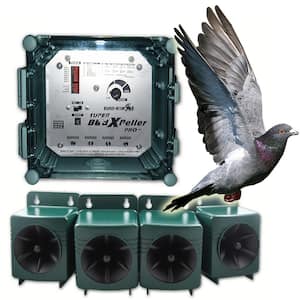 Calling it a modern way to scare the woodpeckers away won't be wrong. The method has a high-efficiency rate and is super easy to use and install. When a woodpecker goes near the electronic device, it makes a sound that scares the birds. As simple as that! The electronic repellents available offer a high area coverage which is the reason they are one of the best sellers.
3- Lure them into Woodpecker Suet Cakes
If you ask about food that woodpeckers can't say no to ever, it is none other than a suet cake. You can end the hammering and pecking once and for all with the help of this simple method. All you need to do is to place a suet cake in a woodpecker suet feeder and hang it a little distance from your house. You will be surprised to see how they go gaga over the mini treat. You can even put more than one suet cake in your yard. This way you are not only keeping the woodpeckers away but also providing them with food.
FREQUESNT ASKED QUESTIONS
Frequently Asked Questions
1. HOW TO REPAIR WOODPECKER DAMAGE IN STUCCO?
Woodpeckers can surely ruffle your feather with the damage they do to your walls. However, what's amazing is you can easily repair woodpecker holes in stucco walls with an EIFS woodpecker damage stucco repair kit. The EIFS saves bucks to do the repairs from scratch; rather it blends well within the walls.
ELECTRONIC WOODPECKERS REPELLENTS?
WHAT ARE THE CHANCES TO SCARE THE WOODPECKERS AWAY USING ELECTRONIC WOODPECKERS REPELLENTS?
Yes repellents work, we have seen results in Electronic Woodpecker Repellents, however, this is Mother Nature so we don't guarantee that in all cases will work the same way.
ARE WOODPECKERS DAMAGE COVERED BY HOME INSURANCE?
Woodpecker damage is generally not covered by homeowners insurance as it's considered preventable. If you find cone-shaped holes in your siding or near your roofline, then you likely have a woodpecker infestation.
DO WOODPECKER COME BACK TO THE SAME SPOT?
Woodpeckers normally nest in the cavity of trees. Some return each spring to the same place. Others, like downy and hairy woodpeckers, excavate new cavities each year.
DOES WOODPECKERS ON MY HOUSE MEANS I HAVE TERMITES?
Not Exactly. Woodpeckers eat many different species of insect, including termites, but also wood-boring beetles, bees, wasps, and carpenter ants. In addition, the woodpecker may not be feeding at your house at all.
WHAT ARE WOODPECKERS AFRAID OF?
Woodpeckers are afraid of hawks and owls; you can place artificial hawks or owls on rooftops to scare the pesky birds away.
KEY TAKEAWAY
Woodpeckers' natural habitat is inside tree trunks. They drill holes in the stucco to reside and feed. With so many methods and tips to deter the birds away, you can save yourself from a huge maintenance bill and of course, an ear-piercing sound. Even if the damage has been done, the EIFS woodpecker damage repair kit has helped a million owners out there.