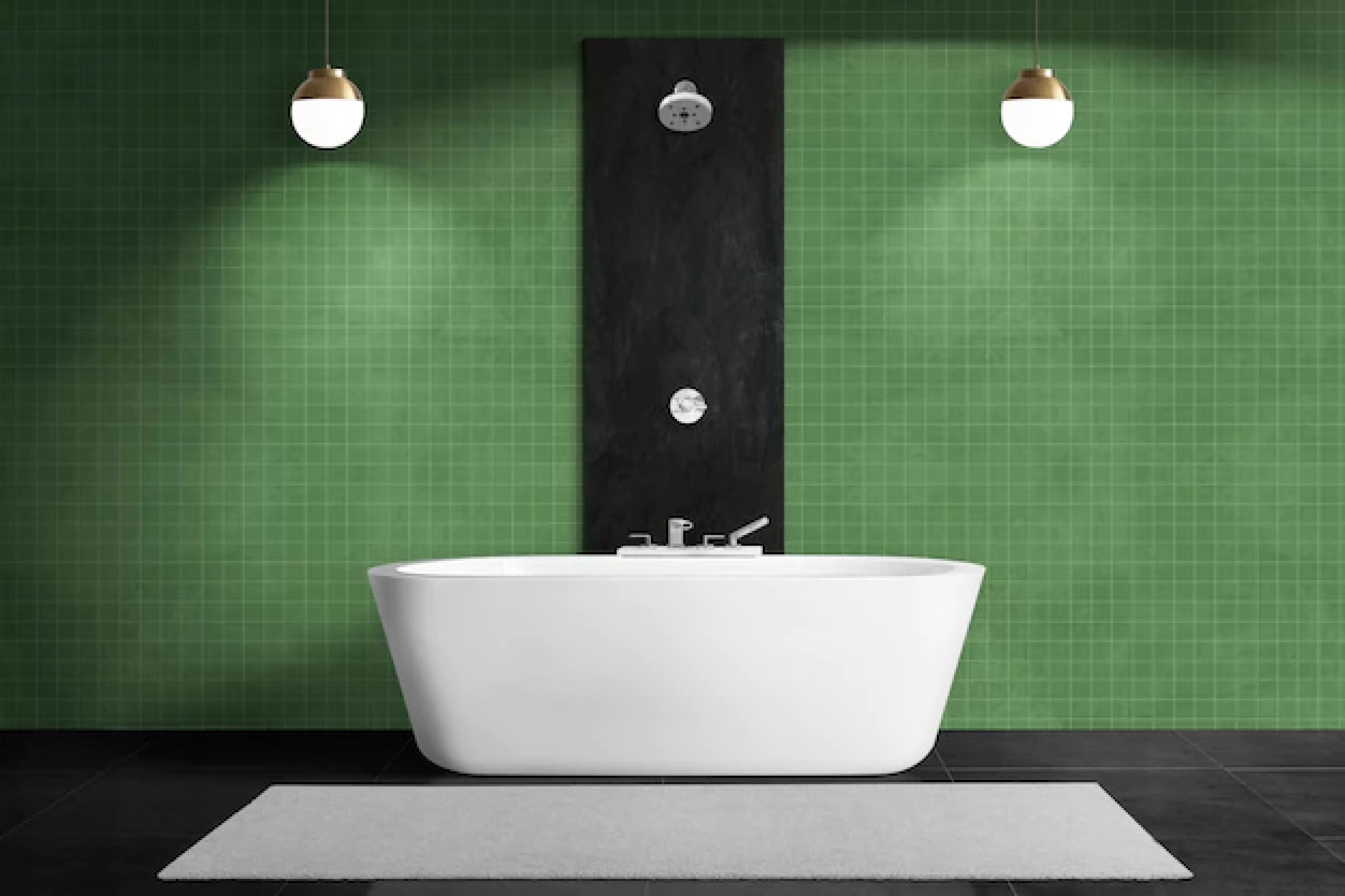 We here are providing a collection of Luxurious, Spa Bathroom Design Ideas. your bathroom will appear and feel rich and opulent when you implement these design ideas. The space will also be beautifully furnished, but not at the price of its usefulness. There is many luxury spa bathroom design available today to suit any taste, from colors and materials to fixtures and finishes, whether you want to update a shower room, add elegance to your bathroom, or transform an underused space into a spa-like ensuite.
We've included a few of our favorite spa bathroom design ideas below, including wall-to-wall wood and marble, gold fixtures and fittings, and sophisticated walnut shelves. With the help of these suggestions, you'll have a tranquil spa bathroom in no time, ideal for elevating your mood and practicing some self-care.
Elegant Bathroom Designs
Create a luxurious bathroom that will make you think of the tranquility of your favorite spa by using the greatest bathroom layout ideas, contemporary bathroom materials, on-trend bathroom color ideas, and mood-enhancing lighting.
1. Use Natural Stone in Unusual Ways
Natural stone may help you relax, which is perfect for a spa-like environment. Numerous gorgeous natural stones may be found in the most costly spas worldwide since certain cultures hold the belief that specific stones have medicinal properties. With this organic touch, your home bathroom renovation will suddenly feel like a spa. It may also be used to add color. Natural stone is often thought of as being colorless. However, there are gorgeous slabs available in pink, rose, and dark gray, like the ones in the bathroom seen above.
2. Adopt the glitter of Parisian fashion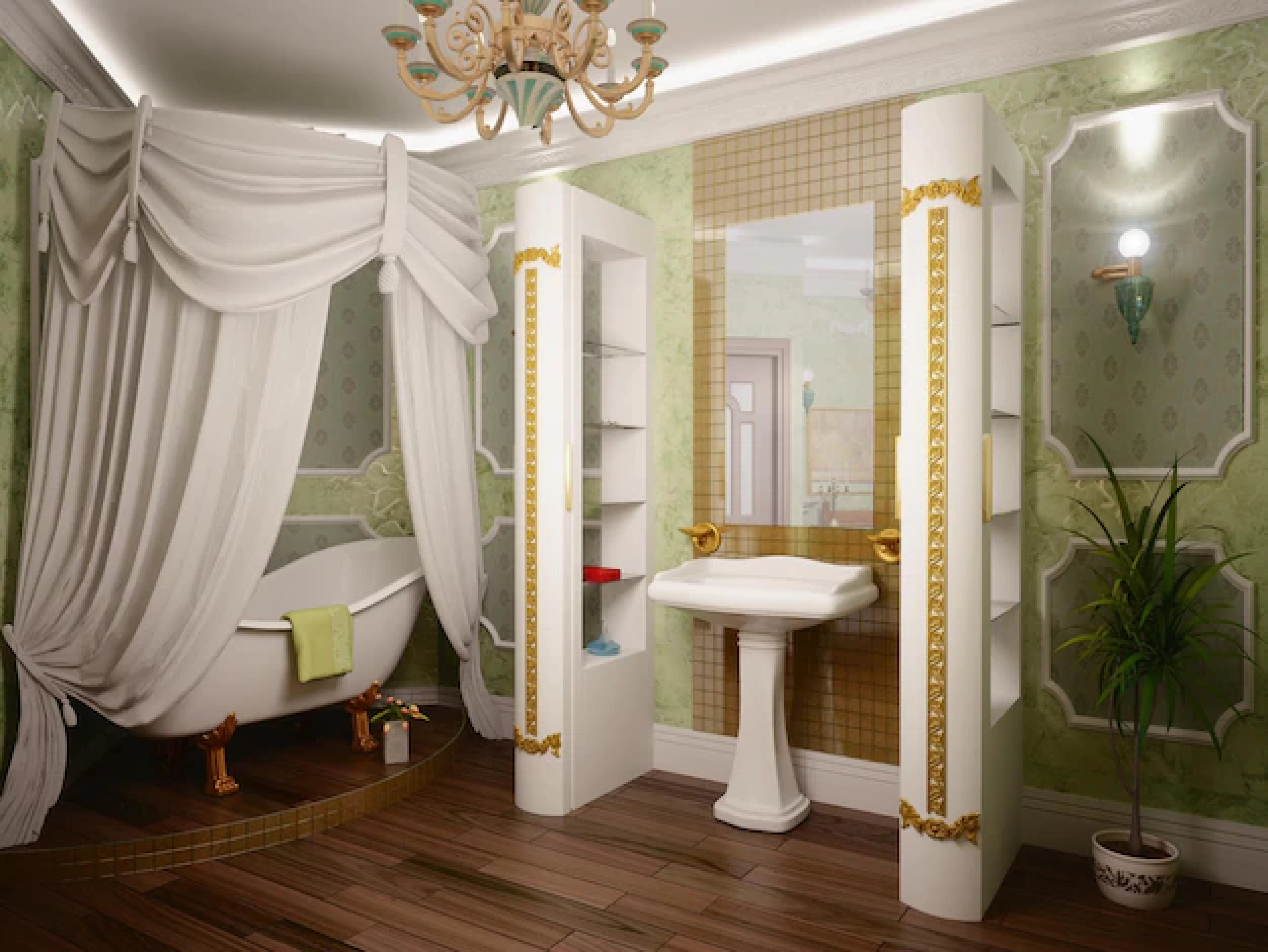 Parisian bathrooms have become fancier during the last several months. Antique furniture serves as the storage in a period bathroom, the lighting is often provided by a bathroom chandelier, and the fixtures and fittings have a very retro appearance. It's a relaxed, conventional aesthetic that contrasts sharply with the minimalist, slick designs that have dominated bathroom design for the previous 10 years. The best method to make your house seem costly is to have a bathroom that appears to have been imported from Paris.
3. Display Bathroom Art to Boost Luxury Living
Bathroom art ideas are among the things that have slinked into our bathrooms over the last few years, and for good reason—decorating with art makes bathrooms seem more polished and, therefore, more opulent.
Art that is obviously about a restroom or the beach should not be shown there, in my opinion. Although these pieces of art have a place, you should choose ones that would look just as fine in a living room for a luxurious bathroom.
4. Take a lavish shower to maximize the therapeutic benefits of water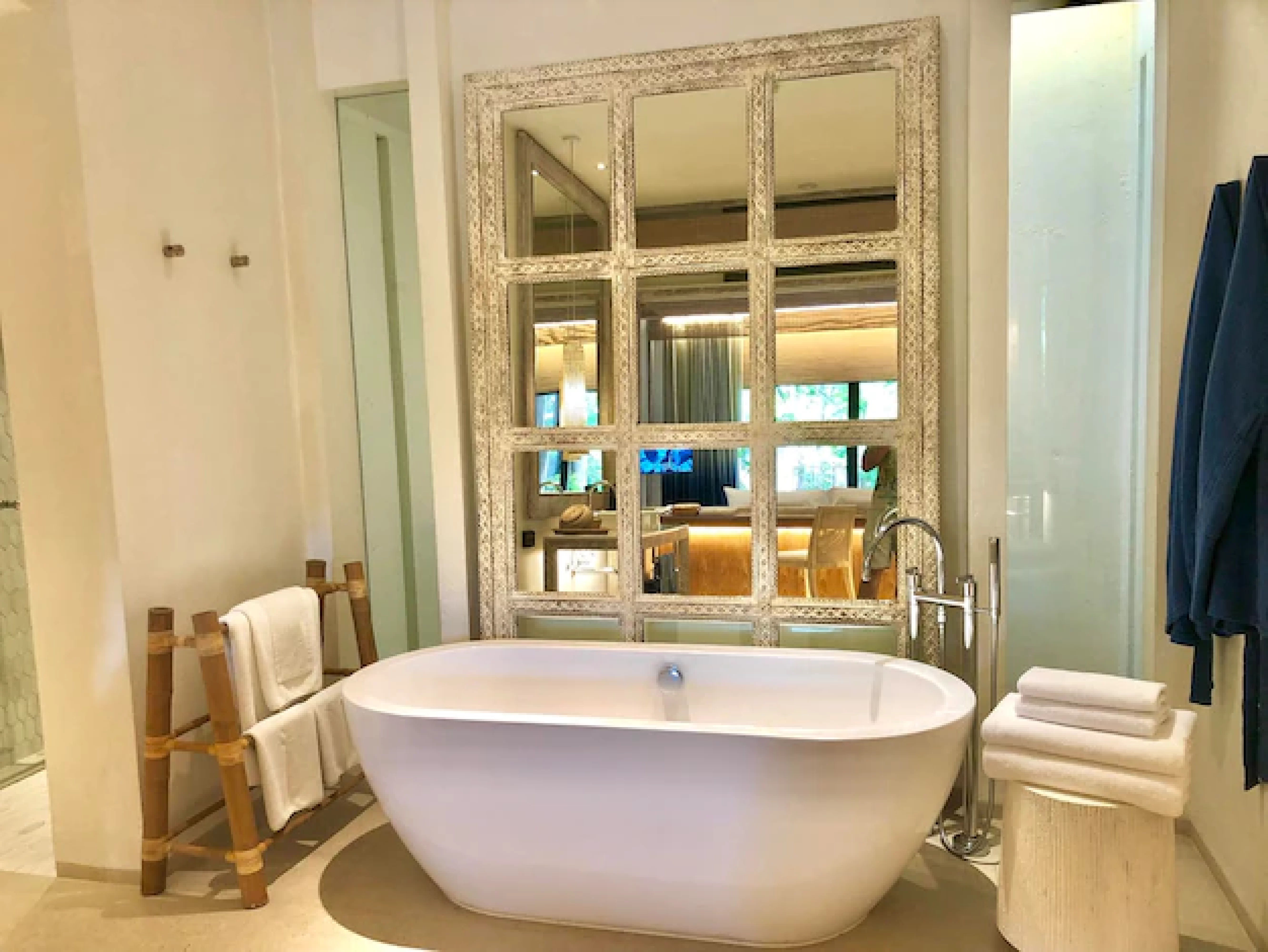 You now have more opportunities to transform your bathroom into an opulent and sensuous retreat thanks to the trend toward showers that help you personalize your experience. As more businesses invest in shower technology, we have more opportunities to benefit from hydrotherapy at home.
You may select between a plate-type shower head with water that falls softly like rain to soak your skin and soothe your mind, or you can choose a directed shower head in the form of a sports shower to wake you up and assist cure muscular soreness.
You must purchase from a reputable provider if you want an equal spray across the shower head. Luxury shower panels may range in length from 1,000 to 1,200 mm, and they function best under strong water pressure.
5. Arrange lavender in a vase for aromatherapy
In the same way that you may put eucalyptus in your shower to help you relax, you can also have the same effect in your bathroom by placing fresh or dried lavender in a vase. It is well known that lavender may aid with anxiety, sadness, headaches, and lack of sleep.
6. Use cotton towels with a waffle weave to give your bathroom a European spa vibe
Because they are considerably lighter, more breathable, better at absorbing moisture, dry quicker, and take up less space than plush towels, waffle weave towels provide bathrooms with a spa-like atmosphere.
These towels don't shed or contain any hazardous chemicals, and since they are made of 100% cotton, they remove dirt, stains, and odors better than other textiles.
7. Introduce colorful stones in your bathroom
Unusual stones like Onyx and Marinace marble are the focal points in luxurious bathrooms. These precious stones are prized for their glittering crystals and jewel-like tints. They may be utilized to create stunning shower walls and backsplashes.
An excellent option for low-maintenance regions is this custom-built basin constructed from 6mm-thick porcelain tiles with a design that resembles natural agate. Porcelain replicating precious stones now looks quite genuine because of advancements in surface technology, but they are also much simpler to clean and don't need any particular maintenance.
8. Prepare Your Bathroom Lighting
Good spa bathroom design lighting ideas can assist establish the perfect tone. Whether you're having a revitalizing shower in the morning or a soothing bath in the evening. They should be designed from the beginning of the project. Consider a combination of ambient, task, and accent lighting. Duty light performs a particular task, ambient light illuminates the space, and accent light gives the finishing touch.
The secret to creating a luxurious bathroom that feels as soothing as your favorite spa is to strategically put mood lighting. If you like taking showers, consider how pleasant your bathroom's lighting may be. The bath and shower may seem like a spa by having waterproof lighting fixtures that glow through the water.
9. Purchase contemporary marble
If you want to upgrade the degree of luxury in your bathroom, consider using exotic stone surfaces. One of the few materials that can make a contemporary bathroom feel as opulent as it appears is marble. Due to its elegance, simplicity, and beauty, marble bathroom ideas may be employed to great advantage in a high-end bathroom.
You must be cautious when using marble in expansive regions since no two slabs of marble are the same. If cost is not a concern, book-matched marble is a classy, classic exotic stone that may be used on both walls and floors to provide a dramatic, seamless appearance.
10. Line your shelves with walnut veneers
Additionally crucial is walnut. Nothing else compares to it in terms of the depth of color and texture. If genuine walnut is too pricey, veneers are acceptable.
When combined with marble, the notion of installing walnut shelves into the bathroom wall looks fantastic and gives the area a spa-like atmosphere. You may quickly create a stunning area to unwind if you install some glass shelves.
Bottom Line
It might be simple to overlook the significance of paint and patterns since the tub. The shower and the furnishings are often the most costly items to purchase for a bathroom. Still, some of the most interesting methods to enhance your luxury bathroom include having wonderfully lighted floor and wall finishes. Considerably while a new coat of paint might alter a room's appearance. A striking new floor or a whole different room layout can do even more.
What comes first in creating a Delux spa bathroom design? The electrical work is often to blame. Before the plumbing work starts, you may examine how shadows will fall by strategically placing mood lighting so that you can make any necessary adjustments. 
A well-prepared, solid, level subfloor require for the majority of floor types. Once it establishes, tiling may start, and sanitary equipment can add on top. Finally, you may add some interest to the walls. If you want ultimate elegance and riches, use polished book-matched marble.
FAQs
What gives a bathroom a posh appearance?
White countertops and cabinetry serve as the backdrop of an understated but stylish bathroom. Use white bath towels and paint your bathroom a light, neutral hue to make it seem upscale. You may add excellent white towels and rugs to a modest bathroom to make it seem more luxurious.
What color should a bathroom be to enhance calmness?
5 Calming and Relaxing Bathroom Color Schemes
Black and white together. In bathrooms, beige, chocolate, and cream, navy blue and silver, white and lavender, pewter and ivory, and pewter and ivory all work well together.
What sort of artwork complements a bathroom?
Professionally framed photographs, posters, and other pieces of art that have a sealed back often work well as bathroom wall hangings since they won't mildew or distort. As you would expect, pottery, glass, or sculptures are other excellent options for long-lasting bathroom art.
How can I transform my shower into a spa-like experience?
Every time you take a shower, add a few drops of essential oils to the water. Put a few drops of lavender essential oil in your shower for a spa-like experience if you don't have time for a bath. As you rinse off, the oils spread out naturally, which is pleasant.
Which hues are preferred for bathrooms?
The most popular bathroom colors this year include bright, startling hues as well as gentle, peaceful tones.
gentle blues.
a lot of warm soil.
Charcoal and black are striking.
calming greens
and opulent jewel tones.