This is the Ultimate guide for 2022 Exterior Stucco Installation Canadian building Standard. If you are considering renovating your home, your exterior walls should be one of the major focuses, they are the first catch of a glance at your home.
This, however, involves a series of cautious activities, the first being moisture-proofing; making your wall moisture resistant.
Don't Miss out on the process behind it
Unique Exterior Stucco Home From Scratch: Leveling the insulation
This fall
Just after this process, it is insulating the wall, which improves the thermal performance of the walls, and generally, improves your building's comfort level. And, one of the recommended materials to work with for insulating your wall is styrofoam.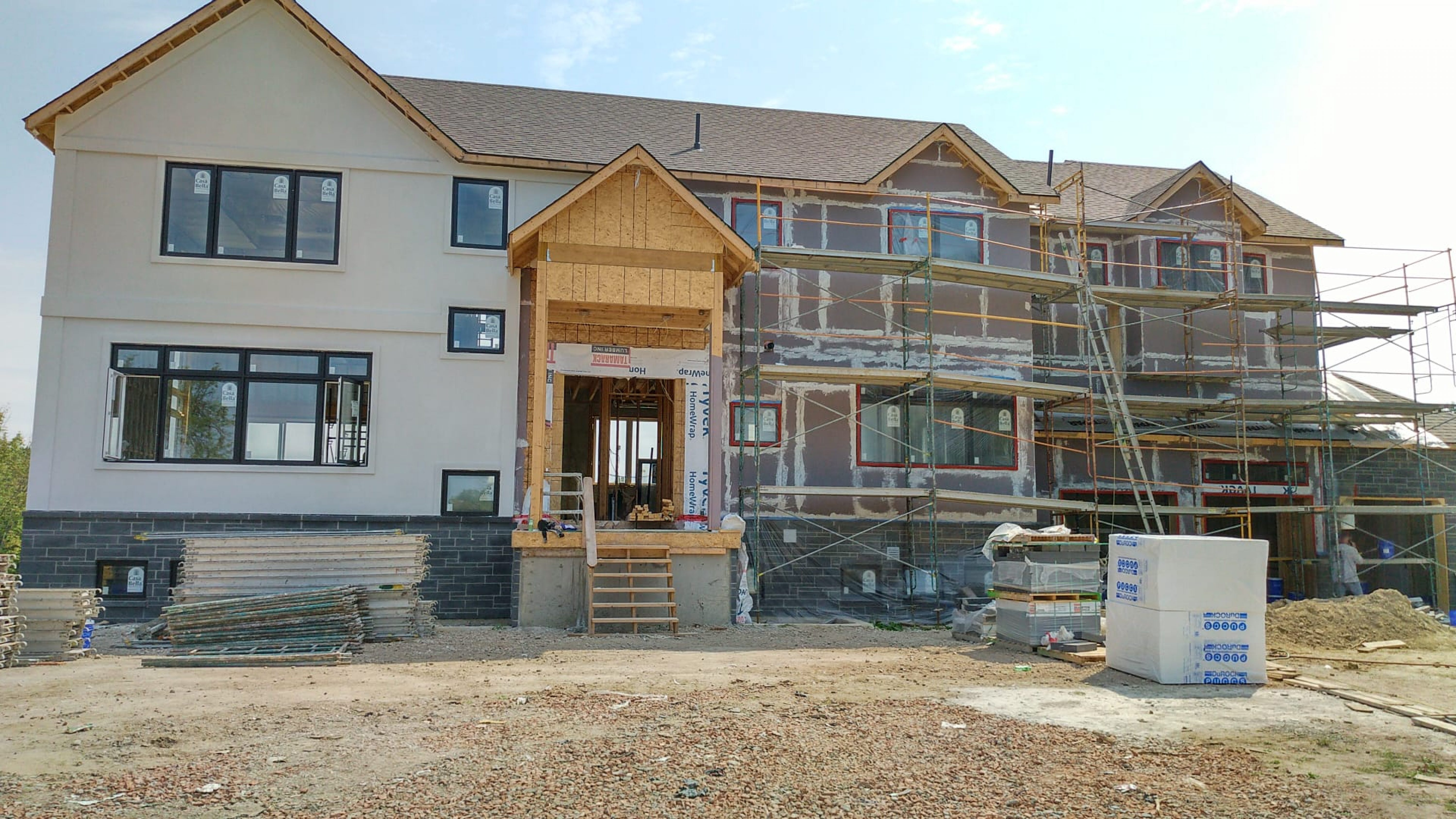 Aside from being economical and very easy to work with, every inch provides a measure of thickness to strengthen your wall's resistance. This means that you can achieve a high R-value with styrofoam and thus reduce thermal bridging. Here, we will tell you all you should know about insulating your wall.
What is Styrofoam Insulation?
There are different materials such as wool, plywood, that you can use to insulate your exterior walls, but styrofoam is a popular and stronger option. Styrofoam Produce Insulation For the Exterior Wall and such insulation is a traditional form of continuous insulation that provides your exterior wall with thermal efficiency.
Styrofoam sheet is made of a rigid foam that is sold in 4×8- or 4×10-footboards. These boards come in different R-values and thicknesses; ranging from 1-inch to 7-1nches, but 1-inch to 3/4 inches are the most common.
Ways to Check the Value of Your Property

 Are you planning to sell your Ontario property or refinance your mortgage? Knowing the value of your home is crucial for making informed decisions. But how can you find out your home's worth? We did thorough research with the friendly team from skystuccosystems.ca and found 7 simple ways to check the value of your property.…
Basically, styrofoam insulation comes in three forms: expanded polystyrene (EPS), polyisocyanurate (polyiso), and extruded polystyrene (XPS). Polyiso can endure longer in high temperatures because of their cross-linked polymers component. EPS and XPS, in contrast, are non-cross-linked polymers, so they have less resistance with high temperatures.
This can vary though, depending on which product you are using. But generally, XPS and polyiso seem to be higher R-value, higher density, and lower permeance than EPS.
R-Values Of Styrofoam
The R-value is a measure of an insulation's capability, how much insulation is able to resist heat flow. Typically, insulation with a high R-value has a greater capacity to prevent heat transfer.
La serie di farmaci per disfunzione erettile inventati uno dopo l'altro esemplifica perfettamente questo punto, come è chiaramente evidente che ogni farmaco successivamente scoperto è stato progettato e fabbricato in modo tale che compensa perfettamente le carenze dei farmaci scoperti prima
The R-value of different types of insulation varies, ranging from R-3 to R-15, and depends on various factors. For polyiso, the R-value after installation is around R-9. After about two years, it may reduce to R-8 or R-7. And, this may be as a result of air infiltration.
But, styrofoam insulation acts differently, several variables can cause the R-value of styrofoam insulation to change. Normally, 3-inch thick styrofoam insulation will give an R-Value of around R-15. While 3/4 inch thick will achieve an R-Value of around R-3.8.
Major Benefits of Insulating Your Walls With Styrofoam
Provides Better Insulation
One of the major reasons Styrofoam is recommended is that it is more effective for wall insulation. Especially for old walls, styrofoam can provide excellent remodeling and reinforcement.
With R-values ranging from 3.6 to 8.0, every inch strengthens your wall better than other materials. Plywood has an R-value of 1.25, and fiberglass, an R-value of 3.14. A higher R-value is an effective control against damages such as rots and molds.
This type of insulation is also an active measure against thermal bridging which occurs with more heat-conductive materials, leading to loss of heat. Thermal bridging generally arises when interior insulation cuts across electrical boxes and stud frames.
Air Control
Insulating with styrofoam can prevent air leaks (act as air barrier) when you seal it with the proper adhesive, using the right technique. It allows air to flow out of the building, while effectively hedging it from penetrating the wall.
Moisture Control
Styrofoam also further strengthens your moisture-proofing. Since the wood used for moisture-proofing is prone to decay or molds if water touches it, placing layers of styrofoam on the wood will shield the wood from moisture.
And, this helps preserve your walls, making them last longer. On the other hand, during the winter, it warms the interior insulation to prevent moisture from storing up from the heated interior air.
How To Insulate Your Exterior Walls
Now, let's guide you step by step into insulating your exterior wall. At this point, you should have done your moisture-proofing and be ready for insulation. You can check Exterior Stucco Home From Scratch: Moisture Proof Stage. To learn more if you are yet to moisture-proof your wall. We will be using a 2-inch XPS insulation for this illustration.
Tips 1
The very first thing you need to do is measure the length and width of your wall and cut out the styrofoam using that measurement. However, if your wall is too long, you may need to cut the styrofoam into bits and place one after another to make it easy to work with.
Tips 2
Then measure the frame of your window and any other immovable objects (power service) on your wall. This is to enable you to make space for them in the foam and achieve a fine fitting. For your windows, measure from the ledger of the bottom to the bottom of the window, mark the measurement on your styrofoam.
Tips 3
Also, measure from the point in the wall where the styrofoam will begin to the edge of the window (do that at both sides). Using the measurements, cut out the foam so that the window frames easily fit into the open space in the foam.
Tips 4 Attach the Foam to the wall
Attach the foam to the wall, ensuring it laps well to the wall, especially at the window and any other place where there is an obstacle. Then fasten a 2-inch nail through the foam into the wall. You can use a longer nail depending on the thickness of your styrofoam. Also, use a nail that has a cap to cover any hole that may result from fastening the nail into the foam.
Make your insulation air and moisture tight
Make your insulation air and moisture tight. You can achieve this using a special "6×8" styrofoam strip to fill up the gap at every edge. This special styrofoam strip has been wrapped with base coat cement and fiberglass mesh to effectively prevent air or moisture penetration.
Use spray foam to fill in the edges
Alternatively, you can use spray foam to fill in those edges. If you are changing your windows, perfect, just pull the windows, add the special styrofoam strip or a wood frame around the opening. The wood or styrofoam strip should be just the same thickness as the foam you are using, then put the window.
That way, the window does not project past the styrofoam. Very importantly, also use house wraps or flashing tapes to seal the seams (areas where you joined two styrofoam). To avoid moisture penetration. This is essentially important where the styrofoam insulation is also serving as a drainage plain.
The tapes should be strong enough to avoid passage of water at panel joints, risking the life span of the system.
Conclusion
Insulating your wall with styrofoam is one of the easiest insulation methods, hence, you can do it yourself. It does not require specialized equipment, you just need a sharp blade or even your saw, a nail, and a hammer to do your installation.
However, remember that gaps in styrofoam insulation that results from placing the styrofoam next to the other make it prone to air seepage. Air seepage reduces the effectiveness of the insulation, so you need to follow strict seam-sealing techniques to preserve the R-value of the insulation.